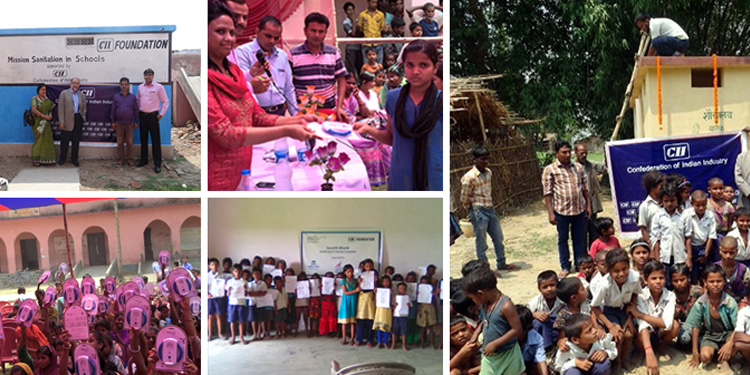 Implementation of Mission SoS in Chhattisgarh
3 Dec 2015
CII Foundation launched Mission Sanitation in Schools to work with companies in construction, operation and maintenance of toilets in various Government Schools across the country. The campaign also aims at identifying, evaluating and documenting innovations/ good practices in technology, design and behavior change practices in sanitation domain. Of more than 200 toilet units built and repaired through the Foundation, 44 are in 33 schools of Chhattisgarh.

"The toilets built earlier in our school were of no use because of non-functional toilet seats and lack of water facility. We are thankful to CII Foundation for getting the toilets repaired and usable for the students", says the Principal of Government Public School in Panch Deori village, Chhattisgarh.

The major problem though, is not just constructing toilets but using them. Not even half the toilets built under the cleanliness mission are being used, an all-India survey conducted by the National Sample Survey Office (NSSO) has revealed. While just 46% of 95 lakh toilets built in rural India are being used, the figure is barely 50% in urban areas.

"The impact of any sanitation project lies in usage of toilets by the community, and ensuring their operation and maintenance. While working on the ground, we noticed that there is a pressing need to create awareness on how proper waste disposal and better hygiene can reduce the risk of infectious diseases, particularly to vulnerable groups such as children. The CII Chhattisgarh State Council is working towards finding effective ways to create awareness on WASH (Water, Sanitation and Hygiene) facilities in communities", says Mr. B.L. Agrawal, Past Chairman, CII Chhattisgarh State Council and Managing Director, HIRA Group of Industries. Multiple companies like HIRA Group of Industries, Mahindra Sponge and Ispat, Sarda Group and Bhilai Engineering Corporation among others came together to provide financial support to Mission SoS in Chhattisgarh.

By and large, the toilets have provided students, especially the young girls with a fundamental need to access sanitation in school.

"It was very embarrassing for me and my friends to go out for nature's call. Finding a little private space behind the bushes is an undignified and challenging task. The girls toilet in my school has provided me a chance of more dignified life", one of the girls from Government Primary School in Paraswani village, Chhattisgarh.

The Sanitation drive in Chhattisgarh was a part of first phase of implementing Mission Sanitation in Schools. CII Foundation has launched the second phase of the campaign to reach out to the urban communities.