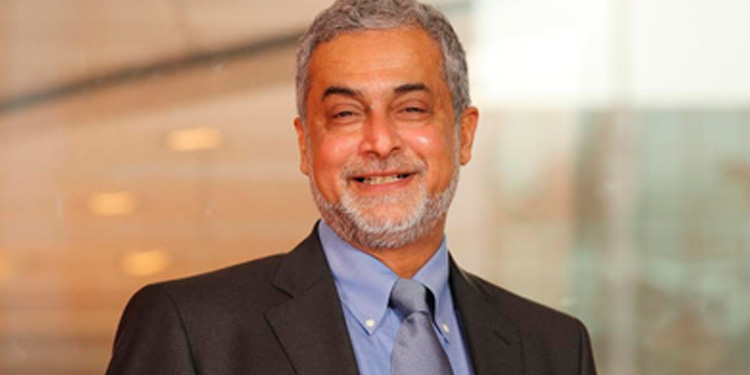 Transforming the Education Ecosystem
03 Nov 2016
Bhaskar Pramanik, Chairman, Microsoft India talks of technology innovation and Microsoft India's CSR intervention to offer solution to the educational challenges

In India, education and skills attract the largest share of CSR expenditure. What according to you makes education, the most favored space when it comes to CSR initiatives?

At Microsoft, education is more than a CSR initiative. Our work in education is integral to Microsoft's core mission of empowering every person and organization on the planet to achieve more.We believe that education is the single most important investment in the future of individuals and communities and key to the growth of a nation.

In India, we currently face a dual challenge of paucity of trained employable workforce, as well as non-employability of large sections of the conventionally educated youth, who possess little or no job skills. The combination of quality content, partnerships, training, and access to technology is essential for transforming the current scenario for education in India. As economies grow, we need to equip the emerging workforce with the right skill sets.

We are enthused by the Government's recognition of the role technology plays in bridging the digital divide, as it gives a tremendous opportunity for us to contribute to India's growth story in an even more meaningful manner. Our priorities at Microsoft India include transforming the education ecosystem by empowering policy makers with analytics to contribute for sustainable education investments, preparing teachers to transform learning by using technology to collaborate, innovate and become life-long learners, building integrated cloud solutions with education partners, accelerating STEM education and student employability and making students more productive, innovate and secure.

Technology innovation has been the foundation of many of Microsoft India's CSR initiatives, especially in the area of education. Tell us about your initiatives of using technology to offer new educational possibilities that can help empower both teachers and students.

Aligned with our vision to empower every studentto achieve more, we leverage technology to collaborate with education communities in delivering solutions, services and programs that enhance learning experience. We engage and sustain our involvement with students right from the beginning of education until their graduation. Microsoft's work in education is spread across:

School: From primary through K12
• Microsoft Showcase Schools is a leadership-focused initiative to highlight innovative leadership and teaching across globally recognized schools through the use of technology to drive school-wide transformation and efficiencies. These schools are recognized leaders in personalized learning, amplified by 1:1 deployments effectively using Microsoft solutions (e.g. MS powered devices, Office 365, Office Mix, OneNote, Skype), to enable anywhere, anytime education for all students.

• The Microsoft Associate Showcase Schools program is an initiative to support wholeschool transformation by helping build leader and teacher capacity.

• The Microsoft High School Student Ambassador initiative recognizes the achievements of student leaders from Showcase Schools. We want to offer them additional leadership opportunities and skills, and work with them to drive innovation and support integration of technology in their classrooms and throughout their schools (their student peers, educators and staff).

Higher Education
• Microsoft Academia Accelerator: Started in 2014 in India, this is a program through which our engineers from MSIDC partner with top engineering colleges, their computer science faculty and students from across disciplines to support them in their curriculum development and delivery of syllabus to foster the spirit of innovation and entrepreneurship.

• Digital Innovation Lab: Microsoft is supporting universities in improving productivity and building capacity of not only faculty but also of administrators and students by setting up a Digital Innovation lab at University premises. We also support inclusive education and help people with disabilities to use computers more efficiently. In the year 2015- 16, 452 educators, 421 administrators and 444 students attended this program.

Skill Development and Employability
• YouthSpark: Launched in 2012, Microsoft YouthSpark is a global initiative to increase access for all youth to learn computer science, empowering them to achieve more for themselves, their families and their communities. Project Jyoti is the Indian chapter of our Community Technology Skills Program, wherein Microsoft partners with nonprofits across the country to empower underserved youth, through computer literacy and IT skills training. So far, YouthSpark has helped more than 307.5 million young people in more than 100 countries in the world. In India, through Project Jyoti, in 2015-16, over 30,000 young adults received training, 70% of who got gainful employment or are self-employed and over 900 youth enterprises were established in India.

• Program Oorja: As part of the skill building initiatives under Project Oorja, we are enabling students of Polytechnics/ Industrial Technology Institutes/ Engineering Colleges, to be industry ready by helping them acquire globally recognized certification on various Microsoft Education curricula, largely office productivity. Started in 2013, it has reached out to 2880 students from 16 states so far.

Faculty development plays a key role in driving 21st century skills in students. Hence any intervention targeted at faculty on pedagogy can have a profound impact on learning and teaching. Microsoft India has been working with education institutes in the country and acknowledges that effective professional development is critical for teachers to be able to integrate technology into teaching and improve student's learning experience.

Our programs for teacher development include:
• Project Shiksha: Launched in 2003, it focuses on imparting technology and integration skills to government teachers in India. Since its launch, more than 7.7 lakh government school teachers have been equipped with IT skills across states such as Maharashtra, Uttarakhand, Andhra Pradesh, Bihar, Karnataka, Gujarat, Mizoram, Madhya Pradesh, Punjab, Rajasthan, Tamil Nadu and Uttar Pradesh.

• Saksham: We initiated the Saksham program in 2011 to bridge the digital divide and support faculty with 21st century skills. The program been instrumental in changing the perception of educators from even non IT domain to work towards engaging teaching-learning environment. So far, through this program we have reached out to 81 State/ Central Universities in 24 states, training over 3800 faculty members.

• Microsoft Innovative Educator (MIE) Expert is an exclusive program created to recognize global educator visionaries who are using technology to pave the way for their peers for better learning and student outcomes. These are experts who integrate progressive pedagogy with advanced technology to advance learning and better prepare students for the jobs of the future.

We are also creating opportunities for individuals to innovate and enable entrepreneurship through programs such as: • DreamSpark: Unveiled in 2008 in India, it supports technical education by providing students with access to professional level developer and designer tools at no cost, so that they can chase their dreams and create the next big breakthrough in technology - or just get a head start on their career.

• Imagine Cup: It is the world's premier youth technology competition which provides an opportunity for high school and university students to learn new skills and, apply their knowledge and passion to develop technical solutions for some of the world's toughest problems. Since 2003, more than 1.65 million students form more than 190 countries have participated in Imagine Cup.
Through our programs, we have engaged over 50 million students, academicians and entrepreneurs in the last 20+ years.

What were your challenges in roadmap of training the teachers and partnering with state governments and District Institutes for Education and Training (DIETs)? How have these partnerships helped Microsoft?
Majority of educational institutes are severely lacking in ICT infrastructure – this, coupled with a low level of internet penetration in the country, means that the majority of institutes are yet to benefit from ICT usage. Major challenges include education delivery in remote areas, enforcing right to education, vocational education & skill development. We have partnered with many state governments to showcase the power of technology in education. Some of these are

• partnership with the Government of Meghalaya to create digital classrooms, and contribute to their vision of expanding digital literacy. Using Windows-based tablets, these classrooms were aimed at fostering digital learning and teaching using Microsoft Office tools such as Sway, Office Online: Word Online, Excel Online, PowerPoint Online, OneNote Online and Office 365 for study projects in varied subjects such as History, Geography, Biology, Physics and Chemistry.

• partnership with the Government of Andhra Pradesh to see how Azure, Power BI and Azure Machine Learning can help them provide insights into possible intervention strategies to help reduce school dropouts. This is a first such initiative by any state government in India to perform this sort of complex data wrangling on public schools and deploy Machine Learning technology to predict dropouts.

What is your future outlook to CSR in Education?
Bridging the gap between formal education and skill development to pave the way for youth-led development is critical for India's growth. From the classroom to the workplace, it has been observed that IT can transform learning, making it easier, more convenient, engaging and valuable. It can also be used to reach those on the other side of India's digital and opportunity divide.

Microsoft was founded on the principle that people can do remarkable things when technology is within reach. As devices and technology become more accessible, and the capabilities grow, we will unlock the potential for all students to learn, closing the skills gap and empoweringstudents and teachers across the country to achieve more.This is key to empower India's youth to realize their full potential and succeed in the future.