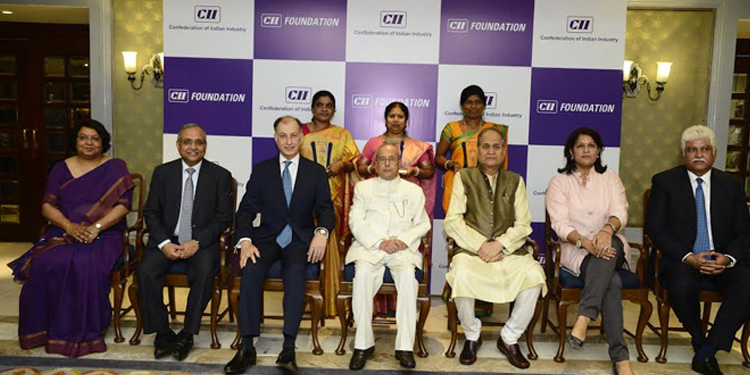 President of India Presents CII Foundation WEA 2017
27 April 2017
The President of India, Mr Pranab Mukherjee, presented three grassroots women leaders, Ms Jayamma Bandari, Ms Manika Majumdar and Ms Kamal Kumbhar with the CII Foundation Woman Exemplar Award 2017 for their significant contribution in the fields of education, health and micro-enterprise respectively on 27th April at the CII Exclusive Award Session held in New Delhi.

Ms Jayamma Bandari received the Award for her courage and contribution in redefining the purpose of education in Telangana. Orphaned at the age of 3, Jayamma dropped out of school due to poverty. Later, domestic violence forced her to earn through sex work. She fought against all odds to set up Chaithanya Mahila Mandali (CMM), an NGO dedicated to empower women and, protect children of sex workers from harassment, trafficking & sexual abuse and ensure their formal education. Jayamma works actively with over 4000 women in sex work and connects them to child care facilities, child protection schemes, skill trainings and alternative livelihoods.

Ms Manika Majumdar was conferred with the Award for her compassion and missionary zeal in fighting against the taboo associated with mental illness in Kolkata. Despite poverty, family violence and discontinued education, Manika became West Bengal's first trained barefoot community mental health counselor. In partnership with local urban bodies, she and her team from Anjali, a Kolkata based NGO, run a community mental health kiosk, to provide de-stigmatized, accessible and affordable mental health care to socially excluded individuals and families across 35 municipal wards.

Ms Kamal Kumbhar received the award for her strong conviction and passion in transforming the lives of women through entrepreneurship in Maharashtra. Daughter of a daily-wage laborer, Kamal walked out of poverty and a failed marriage to set up Kamal Poultry and Ekta Sakhi Producer Company. Her ventures have enabled 3000 women to run successful poultry farms, doubling their households' incomes in the drought – prone region of Osmanabad, Maharashtra. A serial entrepreneur, Kamal today owns six different businesses and is a role model business leader.

Now in its 13th edition, the CII Foundation Woman Exemplar Program continues to recognize and celebrate the journey of grassroots women leaders for their extraordinary courage, conviction and contribution in transforming their lives and that of others. Each year, 3 such social transformers join the league of CII Foundation Women Exemplars who have battled social injustice, stigma, poverty, illiteracy and exploitation, to triumph and further ignite the spirit of empowerment in others. Since its inception in 2005, 38 such exemplary women from across the country have been recognized and further empowered.

Selected by an eminent panel from Industry and social sector, the awardees were shortlisted by a due-diligence partner from over 170 nominations received from NGOs across 26 states.

As part of the initiative, the CII Foundation organized a Capacity Building workshop for the finalists of program on 25th and 26th April 2017 in Delhi, to understand their future plans, areas of support and provide opportunity to interact with industry members. The platform aimed at celebrating the Women Exemplar Collective with industry leaders, and to spur dynamic learning and exchange among the women change makers.


---
"The institution of the CII Foundation Woman Exemplar Award, in 2005, is a welcome initiative to promote women's empowerment at the community level by discovering and recognizing those who have, against all odds, excelled and contributed significantly to the development process in India. I am sure that this will be a great encouragement for the countless number of women who are contributing in different ways to strengthening our nation and its economy."
Pranab Mukherjee, President of India
---
"CII congratulates all the Exemplars. These are the real-life heroes who have battled challenges and contributed in making the world a better place. CII stays committed to support and strengthen these extraordinary women leaders"
Naushad Forbes, President, CII
---
"We take pride in driving the Woman Exemplar Program that has created a network of such women change makers who are torchbearers of hope not just for themselves but for many others who are leading transformation. These exemplars have displayed strength, grit and determination in overcoming social challenges and emerge as true winners."
Chandrajit Banerjee, Director General, CII
---
"The Woman Exemplar Program, now in its 13th year, is a very special initiative that celebrates women leaders who have shown extraordinary courage in rising above challenges and transforming their own lives and that of others. The program not just felicitates, but empowers them to help them scale their work and enhance outreach."
Rumjhum Chatterjee, Chair, Selection Committee, Woman exemplar Program 2017
---
"The stories the Women exemplars carry are truly inspiring. The corporate sector needs to emulate the passion of these real life heroes who have striven to create a positive impact."
Mukund Rajan, Co-Chair, Selection Committee, Woman exemplar Program 2017
---