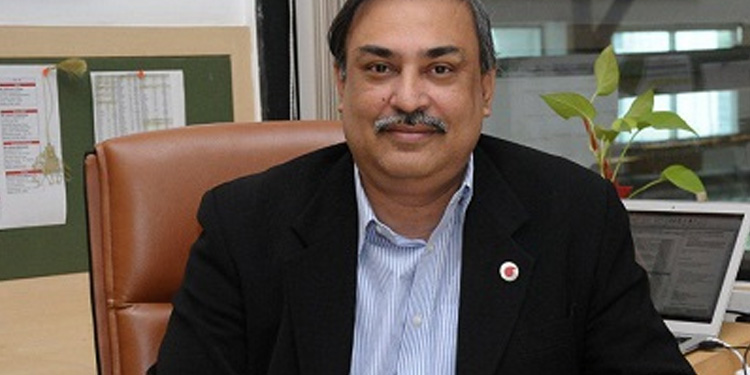 Connecting for Good
01 Apr 2016
In an interaction with CII Foundation, Mr. Sunil Sood, Managing Director and CEO, Vodafone India Ltd. talks of inclusion at workplace, CSR interventions to empower women and his future outlook to CSR

The sustainable development goals seek to change the course of the 21st century, addressing world's key challenges such as inequality and violence against women. How do you foresee Indian Industry's role towards fulfilling the gender equality target of India?

Women constitute approximately 50% of India's population and are an equally important part of the society as men. Unfortunately, their presence, participation and engagement within business and industry is under 30%. Women make up only 14% of the senior management roles in India and there is over 45% drop out rate amongst women transitioning between junior and middle level positions.

While there are several historic and cultural reasons for this anomaly, I believe that the prevailing situation is not sustainable at all.

The struggle for talent in industry and business today is intense. It is also now well established that companies with increased representation of women employees perform better than those without an inclusive strategy. Hence, it is on our own interest to create opportunities and encourage women to first join and then facilitate their continuity for by not doing so, we will shrink our own talent pool.

At Vodafone, Diversity & Inclusion tops the list of our hiring and employee engagement initiatives. Though telecom is viewed as one of the most challenging sectors for women as it requires 24x7 commitment, we have and continue to make, conscious efforts to break this myth such that we can benefit from their positive contribution to the overall functionality of the organization. Some of the steps taken towards this are:

• Since several women discontinue professional work after marriage or maternity, we have put in special
emphasis on providing necessary support to retain them and by offering longer maternity leave and
giving them a career path post-maternity.

• Our recently introduced 'flexwork' policy provides options for sabbatical, reduced working hours
and short working week

• We discovered that women were hesitant to take frontline sales roles due to lack of basic amenities.
Hence, through our Project Comfort, we have created 2000+ wash rooms pan India to provide
enabling environment for 3000+ frontline women.

• With talent as the bedrock, we have brought in greater focus to hiring the right women candidates
through our graduate hiring and management training programmes.

• For women at middle and senior levels within the organization, we have the Women in Leadership
programmes – Pathways to Success that provides them with requisite tools including
mentoring by the senior leadership team to drive their career progression.

• To build an overall culture of respect and care across the organization, inclusive leadership workshops
have been conducted.

The successes achieved in this ongoing journey are that our overall diversity quotient has jumped up from 14 to 21% in just a couple of years. We are committed to taking this to over 30% in the near term. Last year, over 50% of our graduate hire programme were women. Our 'Angel Stores' that are run by an all women team which takes cares of every aspect in the store – sales, operations, customer service, cash and billing etc., best exemplify this. Today, we have 40 such stores across 26 states.

Which factors empower girls and women?
'Mobile for Good' has been our guiding philosophy and we have undertaken several initiatives to explore the potential of mobiles in fostering inclusion and empowerment. The Connected Women report we published in 2014, explored how increasing women's mobile phone ownership can impact various facets of women's lives. .

With gender disparity in itself being a big social challenge in India, the number of women owning a mobile phone is considerably lesser than the men. This gap not only affects their ability to communicate, but it also presents a lost opportunity in terms of health, education, work, safety and inclusion. Our research suggested that increasing women's access to mobile and scaling up the relevant opportunities could benefit 8.7 million women by 2020

The opportunities explored especially relevant to India were:
• Education: mobile literacy for adult learning

• Health: using mobile payments to cover travel costs to receive maternal healthcare

• Safety: an alert system for women at high risk of domestic violence

• Work: a mobile inventory management system for rural female retailers

How do the CSR interventions of Vodafone India empower women? Do these interventions have a strategic impact on your business objectives?
It is our fundamental belief that gender equality and women's empowerment is core to sustainable development. We are fortunate to be a part of an industry that by its inherent nature provides much needed connectivity to enable this. Accordingly, we have undertaken several initiatives- both within our organisation to build an inclusive work culture that encourages diversity and within the community as a responsible corporate citizen. Our efforts are focused on strengthening the hands of Indian women; hands that will shape the future!

Key CSR initiatives for women empowerment:
Vodafone has chosen women empowerment as a key developmental area. For several years now, especially through the Vodafone Foundation, we have been partnering with developmental sector organisations and NGOs to develop solutions that empower women and enable them to improve the standards of health, education, work and safety for themselves as well as their families.

• Digital Literacy for a Digital India
Set up of 20 Digital Resource Information Centres (dCIRCs) in rural India to empower communities of the selected sarpanches. Each dCIRC acts as a centre for knowledge sharing, skill building, English learning, RTI filling, information on government schemes, and training for youth and women. In just 2 years, over 40,000 women across 20 districts in 9 states have gained access to critical information and are now more aware of their rights and entitlements.

• Beti Bachao, Beti Padhao
Partnered NGO Educate Girls and raised Rs. 4.5 crore to support the education of over 120,000 out-of-school girls hailing from Pali, Jalore, Sirohi, Ajmer, Bundi and Rajsamand districts in Rajasthan.

• Learning with Vodafone Solution' in partnership with the Pratham Education Foundation
With the goal to integrate technology into the classroom, this project provides innovative interactive learning opportunity in Science and Mathematics to grade 6th & 7th students in English and Hindi via a 'webbox'. Almost 80,000 students and 1800+ teachers across 1000 schools in 12 states have benefitted from this solution

• Enabling Efficiencies in Rural Distribution - RUDI Sandesha Vyavhar (RSV)
Developed and deployed a mobile-based management solution for the Rural Distribution Network (RUDI) of Self Employed Women's Association (SEWA). This mobile solution (RSV) has helped women entrepreneurs in the RUDI network in Gujarat, to sell farm produce within their local communities and generate more business opportunities. It has delivered incredible results enabling these women entrepreneurs to become more efficient, increase their sales, and generate more money - more than 1500 Rudibens have reported significant increases in their monthly sales.

• IAP HealthPhone - World's largest digital mass education programme to tackle the challenge of malnutrition amongst mothers and children
The IAP HealthPhone programme leverages the near ubiquitous reach of mobile phone across the country to educate women of child bearing age and their families on better health and nutrition practices via simple, interesting and engaging 'Poshan' series of videos- care of pregnant women and children under two, breastfeeding, importance of balanced nutrition and health for simple changes in diet that can notably enhance nutrition levels.. The Indian Academy of Pediatrics (IAP) runs this programme in partnership with the Ministry of Women and Child Development and UNICEF.

• World of Difference (WOD) programme – Capacity building in the development sector
WOD is a unique social initiative that has Vodafone employees, identified after a rigorous selection process, working with NGOs for a period of 8 weeks to address societal issues. WOD taps into the skills, expertise and passion of our employees and enables them to take time out from their regular jobs to work for a charity of their choice. Thus far, 128 skilled employees have donated over 56,910 man-hours working on 128 different social projects with diverse NGOs to strengthen capacities at the grass root level

What drove Vodafone to start 'Women of Pure Wonder'?
We have a rich tradition in our country of worshipping heroes and narrating tales of their character and valour through tales and stories. These folklores via oral narrations pass on through several generations and play an important role in creating role models and building character.

We realized while working with communities and women centric NGOs, that it is important to inculcate the qualities of self-belief, confidence and a can do attitude. Accordingly, we decided to collate and share inspirational stories of women achievers who can be role models for others to emulate. This thought was the genesis for the Women of Pure Wonder, a picture rich book published every year that chronicles inspiring tales of struggle, survival and success of extraordinary women from rural and urban areas, across the country.

We recently published the third edition of the book and have profiled over 150 such achievers. Each edition blends an engaging mix of some well-known and some as yet unheard tales. Every year, our attempt is to enhance the narrative by featuring the extraordinary deeds of real women who have courageously braved all social, economic and familial odds to reach the pinnacle of success in their chosen field of work, thereby setting a shining example for others to follow.

In the latest edition, awe-inspiring exploits of 50 women have been categorised under three aptly named sections - Vision, Valour and Victory. From Arunima Sinha's victory as the first woman amputee to climb Mount Everest; to Justice Leila Seth – the first woman judge of the Delhi High Court and first woman to become Chief Justice of a state High Court; to motivational speaker Kanchan Gaba – untiring blind mountaineer, crusader for the rights of the disabled and Kolkata High Court judge; to Meera Shenoy – Founder-Chairperson, Youth4Jobs, pioneer in skilling, with a focus on providing employment to disabled youth, women and scheduled castes.

We wish for the success stories published in Women of Pure Wonder to act as a beacon of hope for women.

What is your future outlook to CSR?
The need to engage in responsible and sustainable practices is no longer a choice but an imperative. Today, being a responsible business is not only about what and how much you do but increasingly important is how you do it. Is it sustainable, does it make a lasting difference, does it empower communities, and does it help address a relevant socio economic challenge? It is no longer about how much you give back to the society but about being able to create programs and initiatives that make a real difference in the society.

The Indian economy needs to grow 9-10% year on year on a sustained basis over the next couple of decades to achieve the vision of Inclusive growth. The government has made inclusive growth central to its agenda and embarked on several initiatives to deliver development to the very last mile through a 'Digital India' and a 'mobile first' approach. Hence the need to have robust public-private partnerships to engineer social change has assumed greater significance.

We are fortunate to be part of an industry whose core is to provide connectivity to individuals, society and nations. This connectivity fosters empowerment and inclusion. The most exciting part of our business is the transformation that comes in the lives of people when they get connected.

We believe that mobile technology and platform will play an increasingly vital role to address some of India's critical social and developmental challenges in both rural and urban communities. Today, with over a billion mobile phone subscriptions in the country, the ubiquitous reach of the mobile makes it the most relevant channel for last mile outreach. The little device in their pocket or purse becomes the window to a world of information, education, livelihood, employment and even shopping and commerce.

Accordingly, our CSR programmes will continue to be guided by the philosophy of 'Connected for Good' and the vision of Digital India. We will continue to work with partners from the developmental sector to address several challenges pertaining to education, empowerment, safety and wellbeing, financial inclusion and access amidst the community, while driving innovation, disseminating knowledge, and creating shared value to improve lives in India.