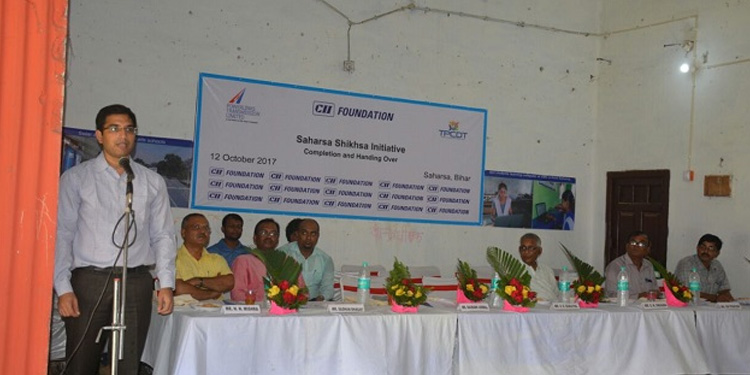 Saharsa Shiksha Initiative
22 Nov 2017
Education has been one of the key focus areas of CII Foundation's work. CII Foundation has been instrumental in refurbishing the infrastructure and helping the students in some of the difficult geographies to gain access to innovative tools and technologies in Bihar, Uttarakhand and Rajasthan. The Foundation through its Saharsa Shiksha Initiative undertook a number of projects in Government schools in Saharsa district of Bihar to support the educational ecosystem.

Digital learning is the need of the hour. To bridge the digital divide, CII Foundation with support of CISCO Systems initiated the E-Connect project by connecting school children with digital literacy in 14 Government schools across Saharsa district, Bihar. The year-long project facilitated basic computer and navigation skills to 4500 students so far, through the 'Get Connected Course', provided by the CISCO Networking Academy. While the Get-connected programme is a self taught online course module, however the CII Foundation team of trainers handheld the students for the course. The project also included creating provision of laptops and internet connectivity in schools. The teachers from respective schools are presently being trained to take it forward. The Program has also been extended to schools in Rajasthan and Uttarakhand.

For over a year now, CII Foundation has been working in schools of Saharsa (Saharsa Shiksha Initiative), to help improve and strengthen the school facilities. CII Foundation with the support of Tata Power Community Development Trust (TPCDT) - Tata Power & Powerlinks Transmission constructed toilet blocks for both girls and boys across 14 Government Schools. This also included a year-long behaviour change campaign in 12 schools to help over 3000 students inculcate proper hygiene habits. To help sustain the efforts, CII Foundation, along with its implementing partner, Doctors for You (DFY) set up an operations and maintenance mechanism involving the school staff and students so that the toilets are clean and well-maintained. The efforts also included renovation of mid-day meal kitchens in the schools.

In yet another initiative- Adarsh Vidyalaya project initiated in January 2017, CII Foundation provided infrastructure support to three government schools in Saharsa. Supported by TPCDT- Tata Power & Powerlinks Transmission, the project is leveraging solar energy to resolve electricity issues and provide clean drinking water by setting up RO system. To begin with, the project is being implemented in two schools, Government District Boys School, Government Girls High School and OBC Kanya Vidyalaya in Saharsa, reaching out to over 3500 students.

To mark the culmination of the project, CII foundation organized a program on 12th October in Saharsa. The program brought together various stakeholders including the Saharsa District Administration, representatives from TPCDT- Tata Power & Powerlinks Transmission, school administrations, implementing partners and students. The solar and RO plant at the Government District School was unveiled by Saurabh Jorwal, IAS, SDO, Saharsa. The SDO appreciated CII Foundation and donor companies for the unique and first of its kind initiative (installing solar panels) in government schools. Few other personnels who attended the program include Om Prakash, District Education Officer (DEO), Saharsa; NN Mishra, DIO, Saharsa; Sadhan Bhagat, Group Head O&M - Purnea , Powerlinks Transmission Ltd; and S N Sharan, Member, CII Member and Director Desi power.

"We need similar infrastructure support in more government schools which could be done through companies' CSR and we would offer our complete support to such projects" Saurabh Jorwal, IAS, SDO, Saharsa

"Tata Power Community Development Trust- Tata Power & Powerlinks Transmission Ltd congratulates CII Foundation for improving the quality of infrastructure in school premises. We take pride in associating ourselves with Adarsh Vidyalaya initiative that promises in 'lighting up lives of students, sustainably'!" Diksha Singh, Group Head HR & CSR, Tata Power Community Development Trust - Tata Power & Powerlinks Transmission Ltd.

"I would like to thank the CII Foundation, District Administration, the District Magistrate, Education Department and the DIO for the encouragement, involvement and extending support to the Program and sustain the efforts" Sadhan Bhagat, Group Head O&M - Purnea , Powerlinks Transmission Ltd.