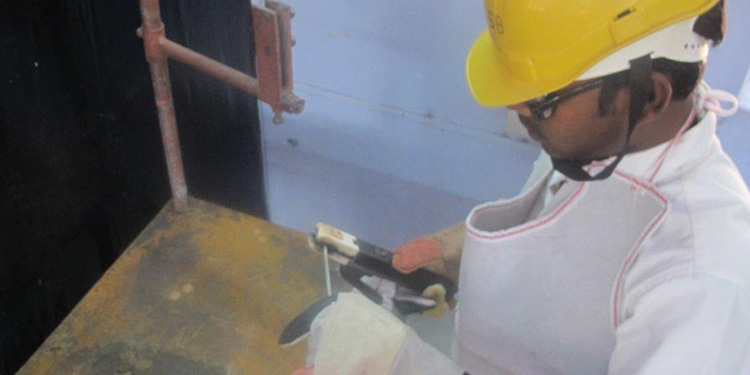 Enhancing Livelihoods- Skill by Skill
13 July 2016
A Report Published by CII and KPMG in March 2016
CII Foundation since its inception in 2011, has been working towards supporting livelihood opportunities for marginalized communities to reduce poverty and achieve sustainable development that leads to transformational change. From providing skill training to the young graduates of Kashmir through project Udaan, to augmenting the income of poor and middle-class farmers of district in Bageshwar disaster hit Uttarakhand, the Foundation has provided livelihood opportunities to thousands.

One of the ongoing projects of CII Foundation aims at providing welding training to the inmates of Trichy Central Prison. The project, being implemented with support from the Department of Prisons, Tamil Nadu and Bharat Heavy Electricals Ltd (BHEL) is building the capacity of the prisoners to help them find a job on their release and lead a normal life. The aim of the project is to keep the inmates productively engaged; prepare them for social and psychological readjustment and rehabilitation by enhancing collaborative and social skills; imbibe work discipline; and develop self-confidence and economic independence.

"I have been in prison for the past 9 years. When I enrolled myself for the training program on Welding Techniques organized by CII Foundation, I had a lot of doubts- will my skills will be recognised as that of any other welder, despite being a prisoner; will I be able to start afresh and find a job; is it safe to handle the machineries etc. All my doubts were answered, when BHEL offered a job to my fellow inmate. That gave me immense confidence. The trainers taught us advanced techniques to handle all machineries and motivated us to look at the brighter side of life. I thank CII Foundation, BHEL and the Prison Department to have organized such a training program, which transformed my life." A prisoner of Trichy Central Prison

Through its Finishing School initiative in Pune, CII Foundation provides soft skills training to the SC/ ST students from various educational backgrounds like Engineering, Law, Management, IT, Architecture etc, to improve their communication skills and employability. The course aims to bridge the gap between academics and industry requirements and enhance employability of undergraduate / post-graduate students of SC / ST category. The uniqueness of this programme lies in the fact that the course curriculum is designed with inputs from industry and English Language Teaching Institute of Symbiosis (ELTIS). Over 1150 students have completed the training so far.

"When it comes to employment and internship, soft skills play a major role. The training given by CII Foundation has drastically improved my soft skills and gave me the confidence and insights on how to clear interviews. The same has helped me and my classmates get internship opportunities with companies." Sanket Themaskar, Vishwakarma Institute of Management, Pune.

According to the Millennium Development Goals Report 2015, nearly 60 per cent of the world's one billion extremely poor people lived in just five countries in 2011, India was one of them. Poverty persists due to lack of resources and low levels of literacy and skills. To break the cycle of poverty, providing livelihood opportunities and skilling the youth is a viable option.

After the devastating effect of the unprecedented floods faced by J&K in 2014, the Foundation has recently initiated a number of long term rehabilitation projects. CIIF is providing livelihood support to BPL families in the Baramulla and Bandipora districts of Jammu and Kashmir, with special emphasis on widows and persons with special abilities. Through the project, over a hundred vulnerable families are provided with an alternative livelihood support such as sheep rearing, embroidery, tailoring, setting up of provision store etc. The offerings made were need based in consultation with the beneficiaries. The project will also focus on developing group enterprises and linking them up with markets to make these groups self-reliant.