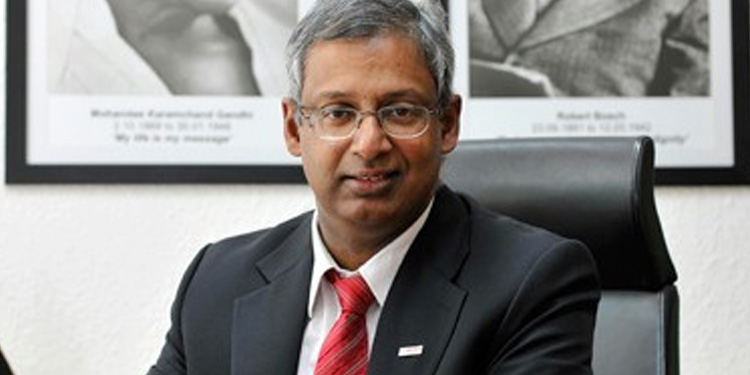 BRIDGE for Employability
13 July 2016
Employable skills and employable graduates is a huge need in India. How do you foresee the role and participation of Bosch India towards reducing the skill gap in India?
Currently, 1 million youth enter the Indian job market every month in India, and this inflow of potential workforce is likely to continue for many years. However, due to the apparent deficit in skillsets required by the industry, skilling these youth has become a very important prerogative for the government as well as industry stakeholders.

Bosch has taken special interest in skill development since 1960s when the Bosch Vocational Center was started. The Center produces well-trained apprentices who are "industry-ready" who get placed in good manufacturing jobs and eventually build long-term careers in that sector. From 2013 onwards, Bosch is also involved in skilling school dropout youth and making them "job-ready" for the services sector. Thus, youth from both categories - who are academically meritorious and those who dropped out of high schools benefit from Bosch's vocational training initiatives.

All major reports point out that a large section of the Indian workforce is in the unorganised sector. Through the ongoing skill development programs, Bosch has developed successful models but on its own can only contribute to a small extent to solve this problem. To support the scalability through the Govt. and other companies, Bosch is also extending its expertise in capacity building initiatives.

Employability Training and Techno-Solutions are the focus areas of Bosch's CSR approach. Tell us about some of the recent initiatives. To help reduce youth unemployment and underemployment in the society, especially among the underprivileged groups, Bosch started a unique short-term job-oriented program in 2013 known as the BRIDGE (Bosch's Response to India's Development and Growth through Employability Enhancement) program as part of its CSR initiatives. The key objective of this program is to give training opportunity to unemployed school dropout youth and help them to enter into the mainstream of economy.

The exclusive focus on the Bosch BRIDGE program is underprivileged youth (18 to 25 years) who are in the NEET (Not in Education, Employment and Training) category. By imparting Vocational Training for 3 months, Bosch tries to support the students in reshaping their lives by providing training and job placement assistance. The training includes soft skills, life skills, job-specific and industry-specific skills that match with potential job requirements of various service sector employers.

Bosch has developed three different vocational training models:
• The first is a long-term career-oriented Apprenticeship Program provided at the award-winning Bosch
Vocational Center running from last 55 years with 9 technical trades, which is certified by the National
Council for Vocational Training (NCVT). More than 6,000 apprentices have been trained so far,
who are placed in top manufacturing firms and PSOs in India.

• The second is a short-term, job-oriented program, BRIDGE, as explained earlier through which more than
4,000 youth have been trained and placed so far.

• The third is the Artisan Training Center, which is started in 2015 with the aim of producing high-quality
skilled artisans to meet the growing market requirements in this area.

What were your challenges in roadmap of skilling people? How has innovation, volunteering and institutional partnerships helped Bosch During the launch of the BRIDGE program and our ongoing efforts to expand it across many states, we have learnt that the government's educational infrastructure is strong and ample, but the curriculum and knowledge of the vocational trainers there needs to be improved in order to meet the industry standards. Even if infrastructure exists in government institutions, equipment such as computers need to be ensured, made functional or upgraded. Similarly, while the industry segments have competence, companies can invest on infrastructure only in a limited way.

Industrial Training Institutes (I.T.I.s) are an important pillar in the country's skill development framework, and with the aim of creating a positive impact in technical skills training at these institutes, Bosch has developed a unique Public Private Partnership model through the BRIDGE program. Accordingly, Bosch is taking efforts to upgrade 88 I.T.I.s across India,

which include 25 I.T.I.s in Karnataka, 30 of them in Maharashtra and 33 in Rajasthan. Each of these I.T.I.s have an average seating capacity of 150 to 180 students. For improving the quality of training for existing I.T.I. students, the support extended by Bosch include setting up Bosch Technical Lab in each of these I.T.I.s, modernising the curriculum as per industry requirements, training the I.T.I. Vocational Trainers through Faculty Development Programs and providing industry exposure to selected students.

One of the biggest challenges in scaling up vocational training initiatives in India is the shortage of trained trainers. To help address this gap, Bosch has designed an exclusive 'Train the Trainer' (TTT) program, which covers BRIDGE Modules Delivery including Counseling Skills, Student Mobilsation, Placement Process, Bosch Qualification for Trainers. This interactive program enables trainers hone their skills so they can plan and deliver effective training. On attending the program, delegates receive a Bosch certificate. More than 200 trainers have already been trained.

Bosch has also joined hands with Tata Strive (Tata Group's Skilling Initiative) in 2016 and has jointly launched the "Bosch-Tata Strive Joint Skill Development Initiative for Youth Empowerment". The two companies have commenced work together in five I.T.I.s. in Karnataka leveraging their combined strengths.

Few other general challenges in skilling today's youth of increasing aspirations include their preference to get a job within their place of residence / home town and lack of adequate transport to the training centers for students coming from rural areas.

Mobilization of the unemployed youth is another big challenge.

What is your future outlook to CSR in skilling and livelihoods?
Given the government's focus on skill development, launch of a dedicated ministry for Skilling, and campaigns such as 'Make in India', one can expect more and more companies getting into the skill development space through CSR.

The demand for Vocational Training is also here to stay and grow. It has been reported that India would continue to witness significant drop-out rates in high schools as high as 60%.Though this might decline to 45%-50% by 2022, it would continue to remain a challenge. Therefore Vocational Training is expected to be a key focus area to serve the needs of those who missed out on mainstream education.

The overall demand for skill development would also be driven by skill requirements in various sectors. Therefore, sector-based participation in CSR-oriented skill development initiatives and related industry-institute tie-ups are a strong possibility.

Implementation of many skill development initiatives which are announced and quality of execution has major scope for improvement.