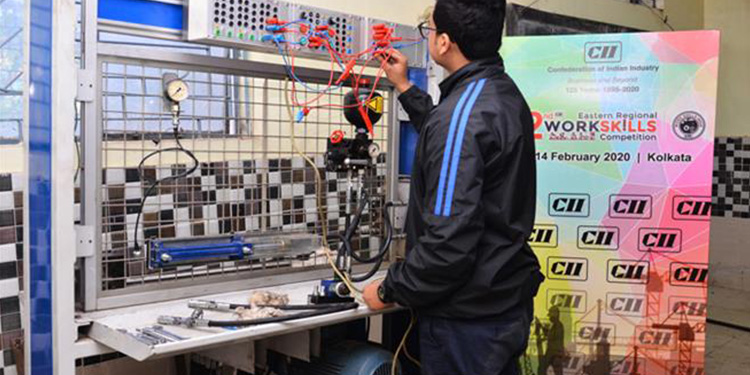 Building Capacity and Augmenting Employability
13 July 2016
Some Skill Development Initiatives of CII
India is at the forefront of the rapidly changing global economic order. Analysts expect the Indian economy to grow at consistently high rates during the coming decades and emerge as one of the largest economies in the world. An important factor in this economic positioning is skill development.

India's demographic profile makes it the youngest nation in the world, with 356 mn within the age of 10- 24 years. The global workforce is expected to be dominated by Indians in the coming decades. While the world is expected to encounter a shortage of 47 million working people by 2020, India will have a surplus of 56 million working people. Thus, India has the potential to address the global demand by becoming the reservoir of skilled manpower.

CII has been instrumental in driving the agenda of skill development for decades and the current synergy between all stakeholders (Industry, Government, Academia, Training Organizations and Civil Society) presents an opportune moment in bringing scale and speed to the skill development movement. CII's skill initiatives focus on policy & advocacy, capacity building while ensuring quality, sustainable skill development programmes, independent assessments and evaluation.

CII is actively engaged in providing skill training to the marginalized, especially in the backward districts to create sustainable livelihood through gainful employment/ self employment. CII engages closely with state and district level administration, multilateral agencies, public sector undertakings, non-state actors and skill development missions to enable skill training to the marginalised sections of society.

Collaborating with the State Governments and the private sector, CII has set up Skill Hubs in remote districts of India, which impart skill training in various trades. These Skill Hubs are in a unique partnership with Industry members, such as Cummins, GMR, Gmmco/CAT, JCB, L&T, M&M, Taj Hotels, SPCL and Toyota, where the company provides its own trainers and latest equipment for several manufacturing and service trades.

In addition to this, CII has also set up many Skill Development Centres, called Skill Gurukuls addressing the specific needs of target groups. In association with Pan- IIT (PARFI), CII has established 20 such Skill Gurukuls in the remote districts of India. These are residential technical education centres with 100% placement assurance from CII members. There is special focus on short-duration modules of local relevance for encouraging greater participation in unorganised sector training programmes.

To support CSR enabled skill training, CII has partnered with various companies to provide skill training to underprivileged youth. The CII HPCL Swavalamban Project has a special focus on Below Poverty Line (BPL) youth in 17 states and 25 centres. Through this HPCL's CSR initiative, over 15,000 youth have been trained with special focus on women, PWDs, SC and STs.

Another CSR project, being implemented by CII is the Aditya Birla's 'Kaushalya' project. The project has so far trained more than 2000 youth across 7 trades through 5 Training Centres in Gujarat, Karnataka, Uttar Pradesh, West Bengal Tamil Nadu.

CII also partnered with Dedicated Freight Corridor Corporation of India (DFCCIL) to provide training and capacity building to 1026 marginalized youth and linking them to employment/self-employment opportunities.

Recruiting capable trainers is also an essential part of improving quality. CII in consultation with the State Governments is imparting Training of Trainer & Assessors programmes. The focus is on upgradation of assessors, and existing & new trainers to fill the shortage in demand. CII conducts several training programmes in a year across India.

To provide career counselling, assessment, soft-skill training and placement linkages for youth, CII, in partnership with Ministry of Labour & Employment is establishing three Model Career Centres in Gurugram, Chennai and Mumbai. CII has partnered with Michael Susan Dell Foundation, LinkedIn, PeopleStrong and Wheebox to provide support for various services.

MCC Gurgaon was the first of the three centres to be inaugurated on 28th April 2016. The other two centres in Chennai and Mumbai will be launched by August 2016.

CII has also been addressing the aspirations of the youth through vocational skill based competitions for 28 years. The CII WorkSkills competitions, supported by the Industry, bring the best talent from India to the national and global stage in manufacturing & service sector. Out of the 8 medallion winners at the WorldSkills Sao Paulo, Brazil, 3 winners were supported by CII Industry members. CII continues to support NSDC for the WorldSkills Abu Dhabi in 2017.